Whether you're shopping for a hairdresser, makeup artist, or nail guru, there are tons of gifts that the cosmetology student in your life will love! Not sure what to get? We're here to help! Read on to find our top gifts for cosmetology students that we know they will absolutely love.
Eyelash Extension Kit
Long luscious eyelashes are so in right now, and the cosmetologist in your life is sure to be practicing eyelash extensions a lot. One of the best (and most relevant) cosmetology gifts you could give is an eyelash extension kit. Whether they're learning in school or practicing on family over Christmas, they are sure to get lots of good use out of this gift.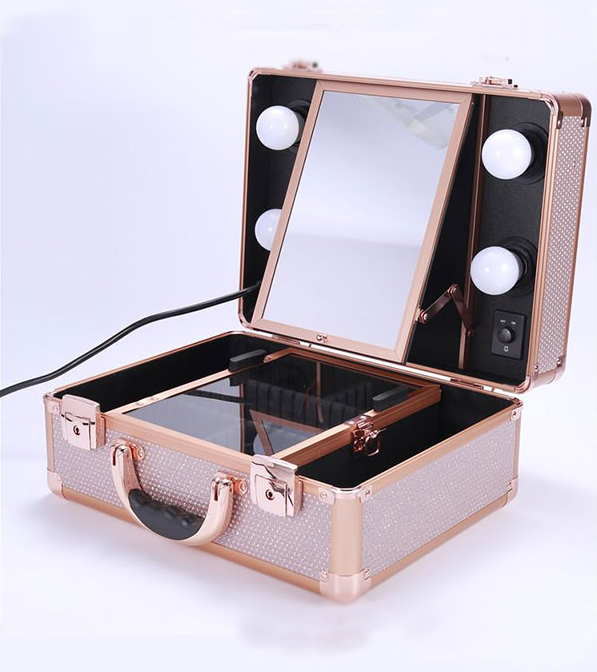 Vanity Travel Case
Out of all the cosmetology gift ideas on this list, we think this is one that they are going to get the most use out of during the duration of their career. As a cosmetologist, they are likely going to be lugging around tons of products and tools to different locations, so they will definitely need a high quality vanity travel case to transport all of their supplies. Not only does this case help them to safely travel with all of their products and tools, it also includes an incredible mirror surrounded by LED bulbs. That way, they'll be able to provide the perfect makeup application or hairstyle no matter what environment they're working in.
High Quality Scissors
Any cosmetologist will tell you, there's no such thing as too many pairs of scissors. While a pair of high quality hair cutting shears can last for years with the proper maintenance, sometimes other things get in the way and prevent you from maintaining those shears all the time. Thus, an extra pair of scissors is always appreciated and can serve as an excellent cosmetology gift.
Custom Apron
If you're looking for gifts for a cosmetologist that have a personal touch, then a custom apron is definitely the way to go! Whether you add her name to it or personalize it in some other way, she is bound to feel special every time she puts it on. It's a unique way that she can jazz up her "uniform" while cutting hair or doing makeup.
Makeup Kit
If you're thinking of going the more practical route when it comes to cosmetology gifts, you can't go wrong with a makeup kit. The cosmetology student in your life might have a preference when it comes to certain brands or color palettes, so if you want to ensure that you're purchasing a makeup kit they'll actually use, be sure to check with them first.
Business Cards
Is the cosmetology student in your life about to embark on their first job? If so, one of the best gifts for cosmetology students is the gift of business cards! If they are going off on their own and in the process of building their book of business, one of the best things they can always have on them is a business card with all their info. That way, they'll have tons of clients and a full schedule in no time!
Cosmetology Jewelry
Something that is a little less applicable to their job, but is too cute to pass up is cosmetology jewelry. You can find tons of different bracelets, necklaces, hair pins, and more that have different cosmetology motifs. Your cosmetology student is bound to love a nail polish and lipstick charm bracelet or a hair clip with little scissors on them. It's just a fun little way for them to really embrace their love of all things cosmetology!
Tool Organizer
One thing that your cosmetology student has learned (or will soon learn) is that organization is the key to their success. A tool organizer that applies to their specific area of expertise is a great cosmetology gift idea that they are sure to love. Plus, they will definitely use it all the time too, so it's a win-win!
Makeup Pro Chair
If the cosmetology student in your life is going the makeup artist route, then one of the best cosmetology gifts is a professional makeup chair. This chair is bound to instantly boost their confidence and make them feel like a pro. Their clients will also be so happy that they're able to sit in a comfortable chair while getting their makeup done.
Beauty Supply Gift Card
And last but not least on the list of gifts for cosmetology students is a gift card to a local beauty supply store. If there's one thing your cosmetology student loves (and uses a lot of), it's beauty supplies. But you may not know exactly what they need or what brands they love. If you want them to be able to shop for themselves and choose something they'll for sure use, then a gift card is an incredible gift. We guarantee that they'll use it and be happy with whatever they purchase!