When you first get your vanity, the majority of your time is dedicated to finding the right place to put it and then setting it all up. But once all of that is over with, you are at one of the most exciting parts: decorating! All over the web, you can find cute vanity room ideas, from the dozens of vanity-inspired boards on Pinterest to the Freedah Luxury blog. We want to help get your creative juices flowing so, without further ado, here are our top six vanity room decor ideas! 
Gold, Gold, and More Gold
No matter what anyone says, gold will always scream 'glamour.' You can create a wonderfully royal appearance by choosing gold-painted vanities or even painting them yourself. Pro tip: try to find gold paint with bits of sparkle or glitter!
Floral and Feminine
One of our favorite vanity room decor ideas is keeping fresh (or realistic faux) flowers on your vanity year-round. A dainty glass or white ceramic flower vase atop your vanity is the perfect spot to house beautiful and bright flowers. Not only is the smell pleasant and calming, but it adds a whole new level of feminine energy to the area. 
Go Nuts With Accessories
Some people like a more minimalist style with their makeup vanity, but we will say yes to accessories on any day! So far, our favorite vanity room accessories have included mirror trays to hold your beauty products, dark purple velvet chairs, portable ring lights, and magnetic wall clips for your makeup brushes.
Bedroom Vanity Ideas: Mannequin Torso
One of the best vanity area ideas that often gets overlooked is adding a mannequin torso. Use it to both create new outfits and keep them wrinkle-free while you do your makeup. These mannequins come in all shapes and sizes so they can work with any budget. Along with the torso, you can also find head busts and mannequin hands to hold your necklaces and rings.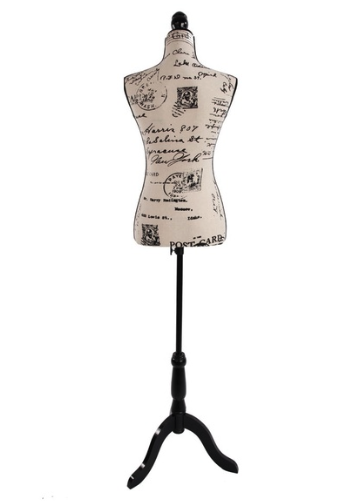 Your Wardrobe and The Ambiance
Okay, our vanity room ideas don't stop with accessories and decorations. You should feel just as glamorous, if not more, than your whole set up. One of the best ways to do that is with a comfortable silk robe and some fuzzy slippers. A great thing about makeup vanities is that they give you a way to create a ritual for, not only your makeup application but also your practices of self-care. If you really want to get in the mood, you can even light a candle or burn some incense and put on your favorite Spotify playlist.
Vanity Room Accessories: Fairy Lights
Could you believe that a simple string of lights could completely transform your makeup vanity area? Well, they can! As one of the most trendy items on this list of makeup vanity room ideas, you can now find dozens of fairy light options to add to your vanity room decor and rarely ever have to spend more than about $20. Whether you want the classic fairy light or something more extreme, such as alternating green and purple star-shaped fairy lights, you can find them in abundance. Simply string them along the top corner of your room or drape them across the mirror on your vanity and create that dazzling, royal effect that never fails to impress.
Our team here at Freedah Luxury is just as excited about makeup vanities as you are. If you are looking for more inspiration on how to step-up your makeup vanity game, check out our other blog posts!