A makeup vanity adds a whole new level of class into one's life and everyone should have access to one. A makeup vanity doesn't have to cost an entire month's rent, although the more high-end models likely will be four figures. There are still plenty of affordable makeup vanities and even features that you can create or build yourself.
Affordable Makeup Vanity
There are a lot of inexpensive makeup vanity options all over the internet. By sizing down, buying your own chair instead of one that comes with a set, and staying away from special features like blue tooth, you can cut down the cost significantly. You could also go for a pre-owned makeup vanity from eBay or a trusted dealer or you can just keep an eye on certain models and wait for them to go on sale.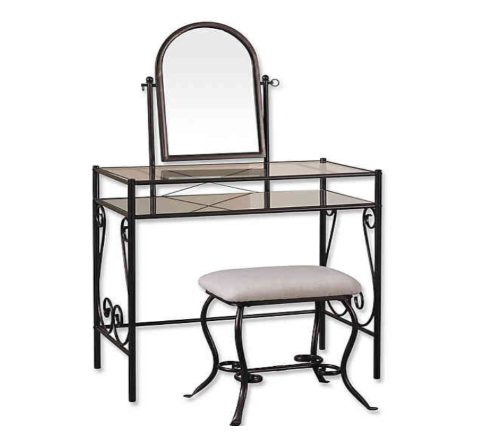 But if you're looking for a new one, there are a few places that always have affordable makeup vanity options in stock. One of these stores is Bed Bath and Beyond. Currently, there's a Linon Home Two-Piece Vanity available at only $129.99. That's a pretty big leap from the standard vanity price of $500 to $800, depending on size. This contemporary piece is made with gorgeous bronze bars and glass to create a simple, minimalist, and affordable makeup vanity.
Cheap Makeup Vanity With Lights
Although it's not too difficult to find a cheap makeup vanity with lights, the lights themselves will cause the price to rise up a bit. If you want to use a little life hack to save money, you can buy your own lights or build a whole set up for them. In some cases, you can save hundreds of dollars. Start with a classic vanity set from Ikea or Wayfair and then throw in those lights afterward.
For simple and elegant lights, you can buy a string of fairy lights. A safe bet would be buying a string that's about six feet long, but if your vanity is taller or larger, you might need more to cover the area. Once you find the length that works best for you, place two wall studs or pins on either side of the top of your vanity. Then, gently drape the fairy lights across, creating the perfect cheap makeup vanity with lights.
There are other options for cheap makeup vanity lights as well, but you will have to get a bit creative with them. Amazon and other online retailers sell the vanity mirror and lightbulbs on their own, often for as little as $20. To create your own cheap makeup vanity with lights, follow the following steps. Find an affordable classic table (roughly three feet wide, ideally) probably from Ikea or another classic furniture retailer. Then select your separate makeup mirror that has the lightbulbs included and then, finally, your chair or stool. Separately buying those three items is the easiest way to create a makeup vanity on a budget. On the plus side, you can also choose to get creative with materials, colors, and styles, to create something even more unique!
You don't have to break the bank to own the makeup vanity mirror of your dreams. Finding a makeup vanity within a smaller budget might require a bit of extra work, but it's not impossible. And it is oh so worth it!