Vanity mirror trends have certainly changed in the past few years. Gone are the days of having an unframed, basic mirror covering almost the entirety of your bathroom wall. Instead, people are opting for a more designed look. Vanity mirrors can be for more than just function – they can actually contribute to the overall design of your space.
As we prepare for 2022, let's take a look at the hottest trends for vanity mirrors. The most popular vanity mirror trends all focus on showcasing your individual style. It's really about letting your aesthetic shine! Take a look at our list below to see which style is perfect for you and your space.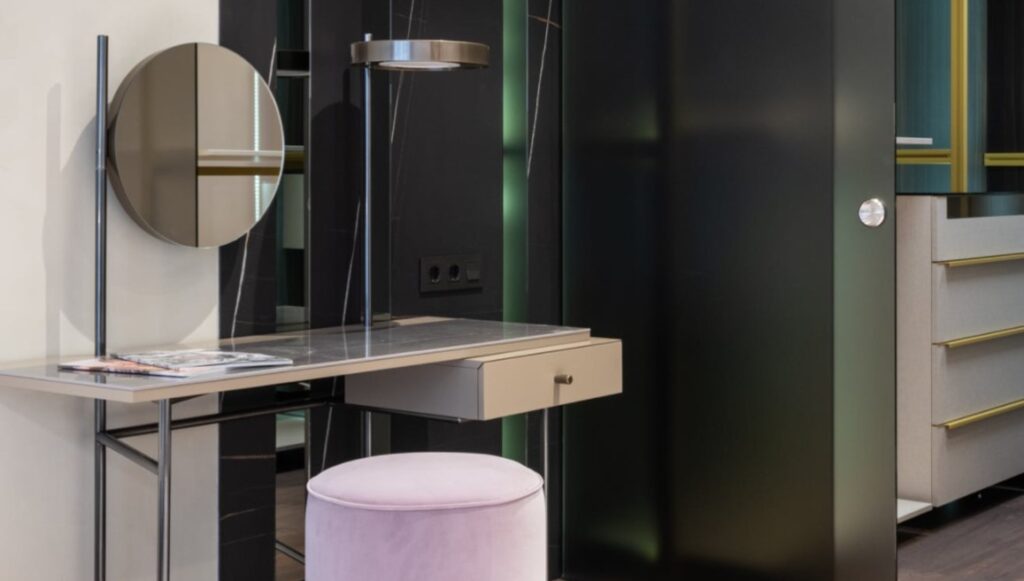 Round
You've probably seen round mirrors all over. They're certainly the most popular mirror trend currently – both as a vanity mirror and as decor around the rest of your house. And while they may be all the rage right now, will this continue to be a trend in 2022? The short answer is yes, but let's dive into how this trend may evolve.
We'll likely see the classic round mirror with a thin gold or black frame continue to be popular. However, more unique options may start to come into the mix. Think a round mirror with a raw edge wood frame. Or sticking with the natural theme, we may also see a rise in rattan and cane frames. For a more eclectic option, you could choose a round vanity mirror with a thick, patterned frame. For a more classic and timeless style that echoes 60's glamour, check out this round frameless Hollywood vanity mirror. Essentially, the options for round vanity mirrors are going to grow exponentially, including more than just the classic thin framed option.
Rounded Edge
Another popular vanity mirror that is currently a massive trend is the rounded edge mirror. This can take a couple different forms. The first being a rectangular shape with only rounded corners on top, leaving the bottom corners angular. And then there's the option of having all rounded edges.
We don't see this trend going anywhere! It's particularly popular with dual vanity sinks and tends to be paired with modern wall sconces or some other type of trendy lighting. The rounded edge mirror trend will definitely continue into 2022. If you're looking to kick it up a notch or set your vanity mirror apart, look for more of an oblong shape with curved sides. It's somewhere between an oval and a rectangle and will give your bathroom the unique yet trendy look you're going for.
Unique Shapes
Speaking of oblong mirrors, another popular vanity mirror trend is choosing a unique shape. In some cases this can look like a blob where there's no consistency in the shape. You can also get a more uniform design where the bottom is just more narrow than the top, for example. Another trendy shape that we'll see shine in 2022 is a hexagonal vanity mirror. We're already starting to see hexagonal mirrors pop up in bathroom designs, and we anticipate that they'll only grow in popularity in the coming months!
Backlit
While the backlit mirror isn't a new trend by any means, we don't expect it to be going anywhere anytime soon. The backlit vanity mirror is really beneficial in adding some beautiful mood lighting to your space. It typically comes in the standard circular or rectangular shape, but with unique mirror shapes becoming more popular, expect to see those unique shapes also come in backlit options.
Hollywood
The last vanity mirror trend that we expect to see in 2022 is one that has stood the test of time. The Hollywood vanity mirror is a staple for a reason – it offers the most optimal lighting so that you can apply your makeup and achieve your desired look. If you're using your vanity for makeup specifically, there's really no other way to go. You just can't get that lighting from all angles with another mirror option. 
Similarly to the backlit mirror, the Hollywood vanity mirror is by no means a new trend, but it will certainly continue to be popular due to its functionality and timeless style. Check out our selection of Hollywood vanity mirrors to find the perfect one for your space!