When you think of a makeup vanity, a Hollywood makeup mirror is probably what comes to mind. You might picture the classic LED bulbs that outline the front of the mirror. It's a timeless look that evokes glamour and luxury. However, if you're looking for a more sleek and modern vibe, then a classic Hollywood mirror might not be for you. To achieve a minimalist yet chic look for your makeup vanity, check out our LED Makeup Mirror. This modern style will add a functional yet sleek aesthetic to your makeup vanity.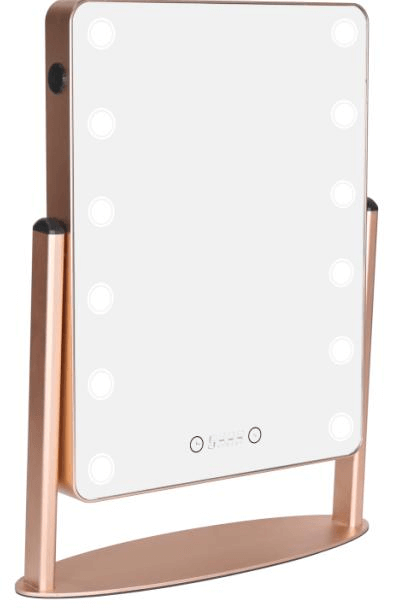 Features of the LED Makeup Mirror
In addition to matching your modern aesthetic, the LED Makeup Mirror has tons of features that will not only help you achieve the perfect look but will also make getting ready much more enjoyable.
Built-in LED Lights
The LED Makeup Mirror comes equipped with 12 LED lights built into the face of the mirror. The placement of the light bulbs help to ensure that your face will be lit from all angles to remove shadows while you apply your makeup.
Swivel and Tilt
You can swivel or tilt the mirror to any angle to ensure you can see every aspect of your makeup application.
Brightness and Color Temperature
The brightness of the LED lights can be easily adjusted with the touch of a button. You can also change the color temperature depending on your preference.
Outlet and USB Port
The back of the LED Makeup Mirror comes equipped with an outlet and a USB port. If you need to plug in any tools or charge your phone, you'll have easy access to do so right from your makeup mirror.
Bluetooth Speaker
One unique feature of the LED Makeup Mirror is that it includes a Bluetooth speaker. Connect any Bluetooth compatible device to play music directly from your mirror. We guarantee that putting on your makeup will never be the same!
3 Luxurious Colors
The LED Makeup Mirror comes in black, silver, and rose gold. All colors evoke a clean, modern look, so choose whichever one works best with your design aesthetic.
Now that you know all the incredible features of our LED Makeup Mirror, it's time to choose which color is right for you! Whichever color option you go with, you're sure to add a touch of modern elegance to your makeup vanity. Plus, you'll be stunned at how flawless your makeup comes out with a well-lit high quality mirror. So what are you waiting for? Get shopping now!