YouTube makeup artists are taking the world by storm, racking up millions of views and receiving impressive endorsements. If you happen to be one of these YouTube makeup artists or are looking to become one, then you've reached the right blog. The products listed below are some of the best must-haves for online beauty gurus.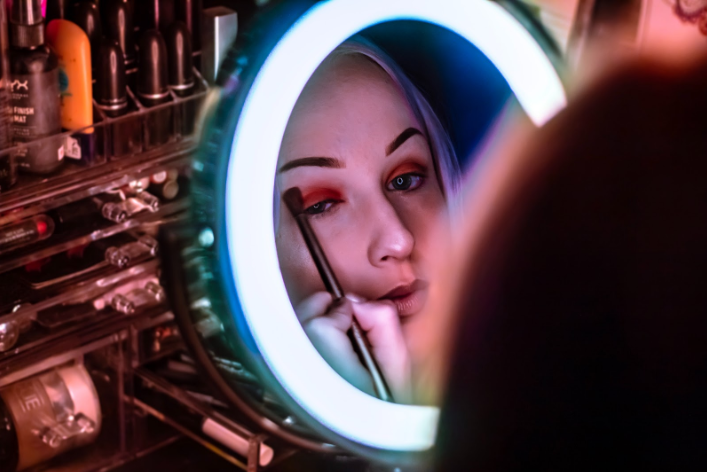 Good Lighting
First and foremost, if you want a flawless makeup application you must have good lighting! So what lighting is the best? You're going to want to set up a makeup filming area with an even amount of natural or white light. Using white light bulbs in your vanity mirror helps to mimic natural lighting. It is also important to keep in mind that too much light can be a bad thing, it can wash out your skin color and may result in applying more makeup than needed. 
Functional Mirror
Among makeup artists' favorite products, a big mirror is one of them. It helps capture all the angles of your face, making for a smooth makeup application process. Freedah Luxury offers a line of Hollywood quality vanity mirrors that will light up any room and will make you feel famous. 
Organized Vanity
On the list of things YouTubers need, an organized vanity is one of the most important. For organization tips, check out our blog on vanity accessories. When you're filming a makeup tutorial, the last thing you want is to be scrambling through drawers looking for a specific bronzer. Having an organized vanity helps you save time and plan your looks. 
Makeup Chair
Some looks can take hours to film, being comfortable is key during the application process. We recommend investing in a professional makeup chair that you won't mind sitting in for long periods. Plus, sitting in a chair made for professionals will make you feel professional! It will help give you more confidence when doing your makeup or when doing makeup for other people. 
Travel Vanity
For those on-the-go, a travel vanity is a necessity. It makes traveling with makeup easier and helps keep YouTubers makeup products all in one place. Plus it comes with built-in light bulbs so you will have great lighting wherever you go! It can be stored away when you're not using it just like a regular suitcase. 
Makeup Removing Towels
Some of us make more makeup mistakes than others, and using handfuls of tissues to clean up mascara or eyeshadow is wasteful and messy. These makeup removing towels are perfect to keep on your vanity desk when you need a quick clean up. 
LuMee Case
The LuMee case has proven to be one of the beauty gurus' favorite products. Whether you're doing last-minute makeup touch-ups in the car on the way to an event or trying to capture the perfect influencer selfie, this phone case will provide you with the perfect lighting. 
Other Must-Haves
For more product recommendations check out our other blog posts on the Freedah Luxury website! We offer top-line makeup cases and mirrors for professional makeup artists and beauty enthusiasts. Email us at [email protected] for more information!