Having your very own makeup vanity changes your makeup game and beauty routine entirely and is a great way to set aside time to pamper yourself. Some people choose to go with expertly crafted vanity sets and others choose to go with a DIY vanity. 
When you're doing a DIY makeup vanity, you can go with a huge variety of styles and designs. You can create a setup that emphasizes your accessories, your makeup collection, or to reflect your favorite artist. Here are some of our favorite DIY vanity table designs and tips on how to build a vanity!
How To Build A Vanity
: The Basics
It's actually not as difficult as it sounds. All you really need to make a DIY vanity desk is a little stool or chair, a tabletop surface or desk, a simple mirror, and about five feet of open space. Those are the four things you really need and everything after that (such as lights and accessories) are just fun bonuses.
DIY Vanity
: The Princess
If you feel like a princess, we can recommend a few add-ons that will completely step up your makeup vanity game. A gorgeous pink or white fur rug and high-end swivel chair can make sitting down for a thirty-minute makeup routine much more comfortable. LED and white lights are also a great addition because they provide maximum visibility for a reasonable price. Whether you choose to have your lights attached to your mirror, such as these, or hung on the wall above, it'll make your application process way easier.
From Sewing Table to Makeup Vanity
A new trend in the makeup community is repurposing old sewing tables to create a vintage, one-of-a-kind makeup vanity. Perhaps your grandmother has one lying around in the garage or spare bedroom. Otherwise, you can find used sewing tables on certain online marketplaces or a classic furniture store, such as IKEA and Wayfair.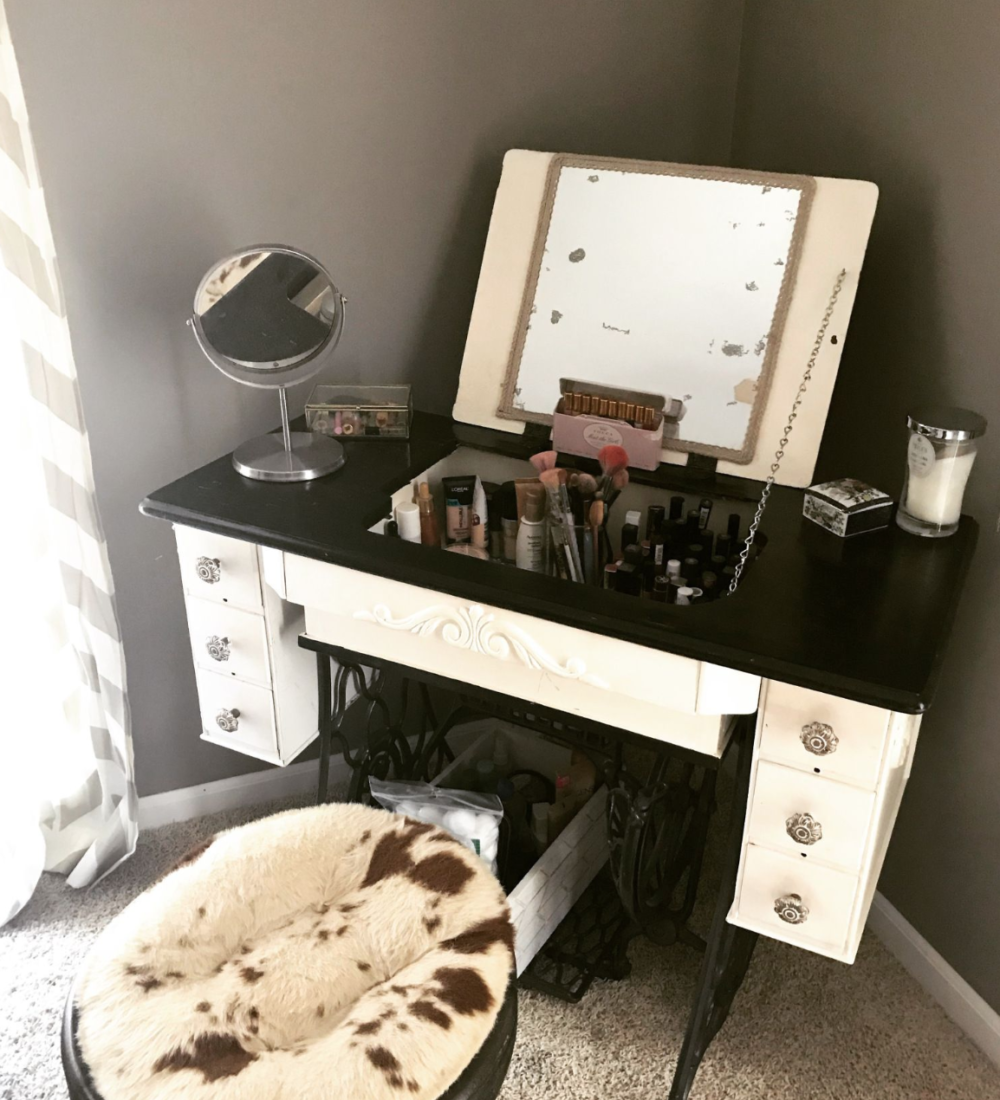 Makeup Vanity For The Organized
For those of you who simply cannot stand clutter, there are hundreds of beauty organizers that will keep your products in order and add style to your set up. At Freedah Luxury, we are a fan of magnetic wall displays. You can find adhesive-backed magnets to set on the wall and attach small magnets to all of your favorite makeup brushes and products. Not only is it convenient, but it looks very impressive!
Vintage Suitcase Turned Vanity
Following in suit of the old sewing machine, you can also repurpose a piece of old luggage or a suitcase to create a nice vanity. The only other things you'll need are a wooden luggage rack and a matching mirror.
Barstool
DIY Makeup Vanity
You don't need to spend a ton of money on a nice makeup vanity. If you've got a couple of spare barstools in the basement and a nice wood plank, you can create one on your own. Simply attach the plank to the tops of the barstools, perhaps with nails or some form of adhesive, and then you're good to go!
We hope you use these ideas as inspiration for your next DIY project!