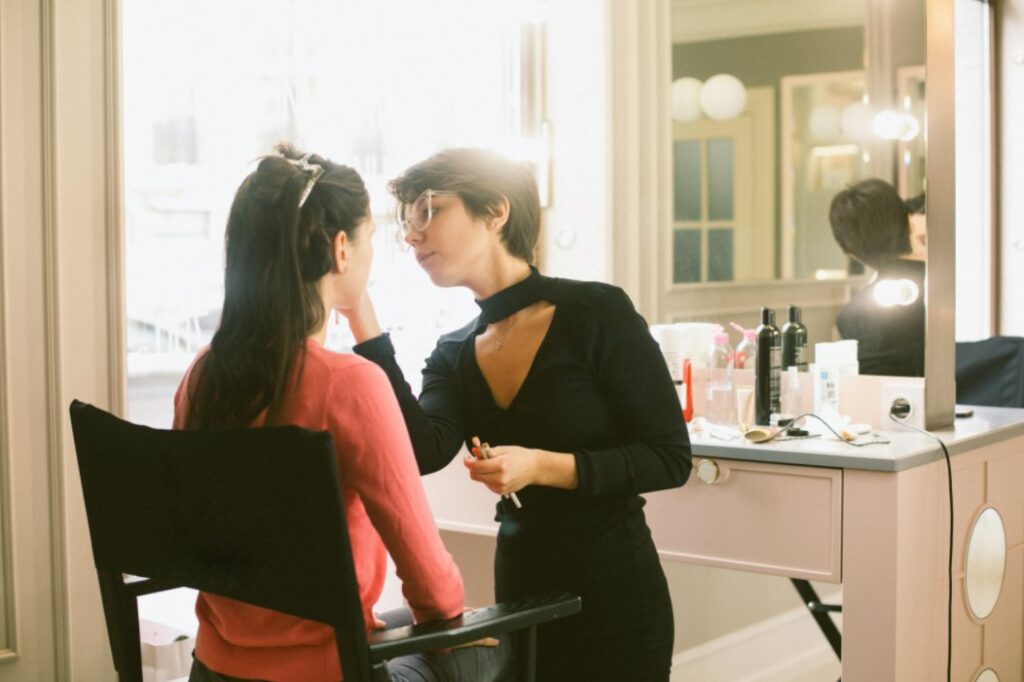 Have you ever been in a department store dressing room, looked in the mirror, and felt like you looked completely different? Or maybe you feel that way under fluorescent lighting in a hospital or in your friend's bathroom. Well, guess what! A room's lighting plays a huge role in how you look in a mirror. So when you spend your time and money building a makeup vanity mirror, you want to make sure you have the best lighting for makeup application, because it will make a huge difference.
Having the best vanity lighting for makeup application is important because it can affect how the final results look and the simplicity of your makeup routine in general. No one wants to walk out in public with their foundation being uneven, blotchy, too dark, or too light. But if your lighting is off, that just might be the case. Lighting can also affect your beauty maintenance routine, like tweezing your eyebrows for instance, so making sure that you have the best lighting for makeup is super important. Freedah Luxury wants to make sure that you are getting your money's worth with our vanities, so let's take a look at the best light to do makeup in.
Best Vanity Lighting For Makeup
If you ask any professional makeup artist what the best lighting for applying makeup is, nearly all of them will say that it's either LED lights or white lights. Both of these lights offer maximum visibility through a warm light, without washing out your face with an unnatural color, which tends to play tricks on you while you're applying makeup. Both these types of light bulbs are extremely affordable, so if you want, you can put them all over your bathroom and bedroom, as well as your makeup vanity. 
Along with the type of light bulbs, the placement of those light bulbs also matters. The best light for applying makeup tends to be when the light is coming from all around your face, not just from above, which is typically the case in most bathrooms. There are a couple types of makeup vanity mirrors that offer this type of all-around lighting. The first one is a Hollywood vanity mirror. Our selection of Hollywood vanity mirrors offers the most optimal lighting from all angles so your face will be perfectly illuminated for your makeup application. Another mirror that offers the best light to do makeup is a backlit mirror. A backlit mirror tends to offer a softer glow, so if you're looking for more discreet mirror lighting, this may be the best fit.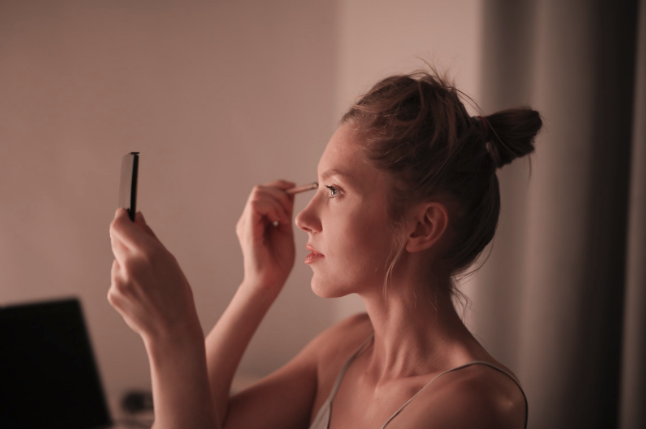 Best Bathroom Lighting For Makeup
So now that we know the best lighting for your makeup vanity, what is the best lighting for makeup when it comes to the rest of your bathroom? Your bathroom lighting will be a little different because it comes from the ceiling. Even if you do have LED or white lights in place, the positioning of the lights can create distracting and obstructive shadows on your face. That's why your makeup vanity lighting is so important. In most cases, if your vanity lighting is good, then your overhead lighting doesn't even matter. If you do find that your overhead bathroom lighting is causing some shadows, another option is getting a portable makeup light, to give you the best visibility possible and allow you to reach your fullest potential. There are tons of portable makeup lights but our favorites are the SimpleHuman Sensor Mirrors, which allow you to play music as well, and the Otte-Lite Natural Daylight Makeup Mirror.
Best Light To Do Makeup On
The Go 
When you've been running around all day, it's easy for your makeup to run or smudge. So, what kind of lighting is best for applying makeup on the go? It can be as simple as opening your front-facing camera or the Snapchat app, which can then can act as a mirror and allow you to check out your face for any touch-ups you may need. To make sure you get the best view possible, you can invest in a phone case with LED lights, like the Lumee phone case. The best part is, they can also be used to take some awesome, well-lit selfies!
If you're ever stuck deciding which lighting to go with, you can always rely on a heavy amount of natural light. This is also a good backup if any of your lightbulbs go out, as an uneven glow will not do you any favors. Natural sunlight is one of the best lightings for makeup, but even if your place doesn't get too much of it, you can also invest in certain lightbulbs, like GE's Reveal, which can bring that natural light to you.
Freedah Luxury understands the power that a solid makeup foundation can have on a person, confidence being one of the most important. When you invest in great makeup lighting, it'll be easy to make yourself look like a queen!