When it comes to your makeup routine, there's nothing better than having a perfectly set up vanity to easily find your products and tools. Not only does a makeup vanity provide the space to organize your makeup, but it can also give you the proper lighting and mirror to help you get the best application possible. And on top of that, a makeup vanity can also be a gorgeous statement piece in your bedroom or bathroom! So how do you determine what the best vanity set up is for you? That's where we come in!
Luxury vanities setups are making their way back into the mainstream beauty industry, and people are getting very creative and elaborate with them. Some people like to be original, some like to draw inspiration from others, and some love a little bit of both. Freedah Luxury lives and breathes glamour and beauty, so we're going to show you a few ways we build our own makeup room setups!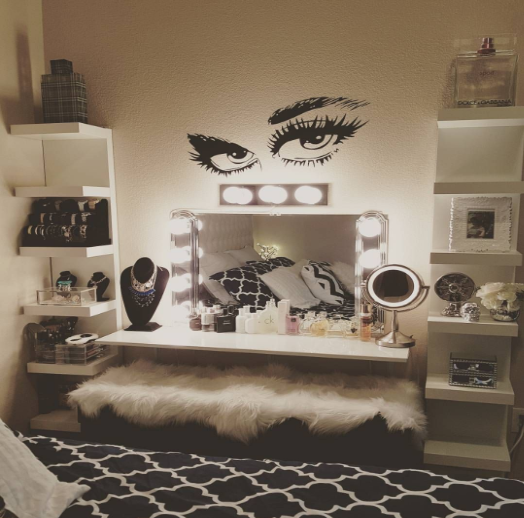 Which Vanity Setup Is For You?
When it comes to setting up your makeup vanity, the first thing you need to decide is the overall vibe you're looking for. Do you want something glamorous, like an old Hollywood feel? Or would you prefer a more minimalistic setup? Maybe you want to incorporate pops of color or fun lighting. The possibilities are endless!
Need a little inspiration? It's time to check out what the influencers and experts are doing! Websites like Pinterest and YouTube have a huge community of makeup experts, interior design enthusiasts, and other creatives who are looking to share their vanity set up strategies with the world. Our favorite YouTube personalities who feature makeup station setup ideas are Sarah at BeautyBuzzHub and Isabel Rachel. Pinterest has dozens of threads that you can sift through, and you're guaranteed to find the makeup set up of your dreams.
First, decide on how elaborate you want to be with your beauty station, such is if you want a whole makeup room set up or just a small corner. Freedah Luxury has everything you would need for a full-fledged, professional makeup station setup. With us, you can find professional makeup chairs, vanity travel cases, vintage-Hollywood vanity mirrors, and more. It's all up to you!
Start With A Plan
Once you've figured out your style, it's time to start on your makeup vanity setup. It's important to be strategic with your makeup station setup so that you can easily access the products that you need in the order that you need them. For example, if you've got organizers and/or drawers, make sure to store all your eye products and tools in the same spot so you can quickly move from one product to the next without having to search in multiple places.
Get Organized
Speaking of organizers, there are so many options out there to choose from, and they are probably the most important tool when it comes to your vanity setup. Whether you're looking for something gold and glamorous or sleek and slender, you're bound to find the perfect organizer to fit your makeup vanity style. Plus, there are tons of different shapes and sizes so you can be sure to find one that perfectly fits your makeup products and tools.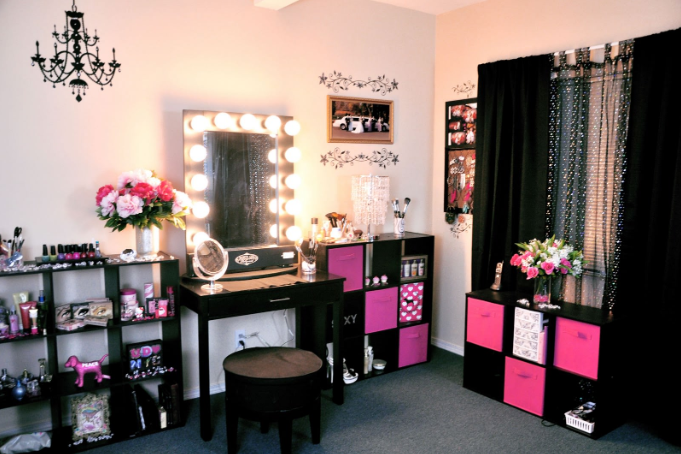 Spice it Up
Now that you've got a theme and your makeup, brushes, and other tools are properly organized, it's time to add some personality and flare! Really make your vanity your own by adding fun pops of color or decor to spice things up. While the purpose of your makeup vanity is to be a spot where you can apply your makeup, it can also be a fun way to express yourself.
One of our favorite ways to dress up a vanity is to add some greenery. If you've got a green thumb, there are tons of indoor plants that can help to make your vanity feel peaceful and serene. If you're the type of person who can't keep a plant alive, try a faux plant to add some color. Or if you're more into florals, keep a vase of fresh flowers on your vanity to really liven up your makeup station setup.
Another way to make your vanity your own is by adding some additional lighting. String lights draped over the top of your mirror can be a fun way to add some whimsy to your vanity setup. Just be sure this isn't your only source of light though. Good lighting is super important in order to get a good application, so make sure that your vanity is giving you the proper illumination from all angles. And if not, check out our Hollywood vanity mirrors that have the perfect lighting built right in!
One of the best ways to really add to the vibe of your makeup vanity is by changing up your chair. This is a great way to add some color, style, comfort, or all three! Find a velvet-backed chair to really up the luxury. Or maybe try a clear lucite chair for a more modern look. Whichever chair or stool you choose, make sure to try it out first so that you can see if it's the right height for your vanity.
Vanity Set Up At Freedah Luxury
At Freedah Luxury, we believe everyone has a beauty guru inside of them, just waiting to be set free. Allow yourself to explore how inspiring makeup can truly be. And what better way to explore than at your freshly set up makeup vanity. Let your vanity be a haven for trying new looks and finding the best products for your skin. With an organized makeup vanity, there's nothing holding you back. Let your inner diva out!