The design of your bedroom makes a huge difference in how you feel waking up everyday. It sets the tone for the day ahead, so why not wake up feeling like the star that you are? If you love glitz and glamour, then you need a modern Hollywood glam bedroom.
Before you start decorating, be sure to check out our list of Hollywood glamour bedroom ideas. You'll find inspiration for furniture, décor, and color schemes, and you'll be on your way to the luxurious bedroom of your dreams in no time!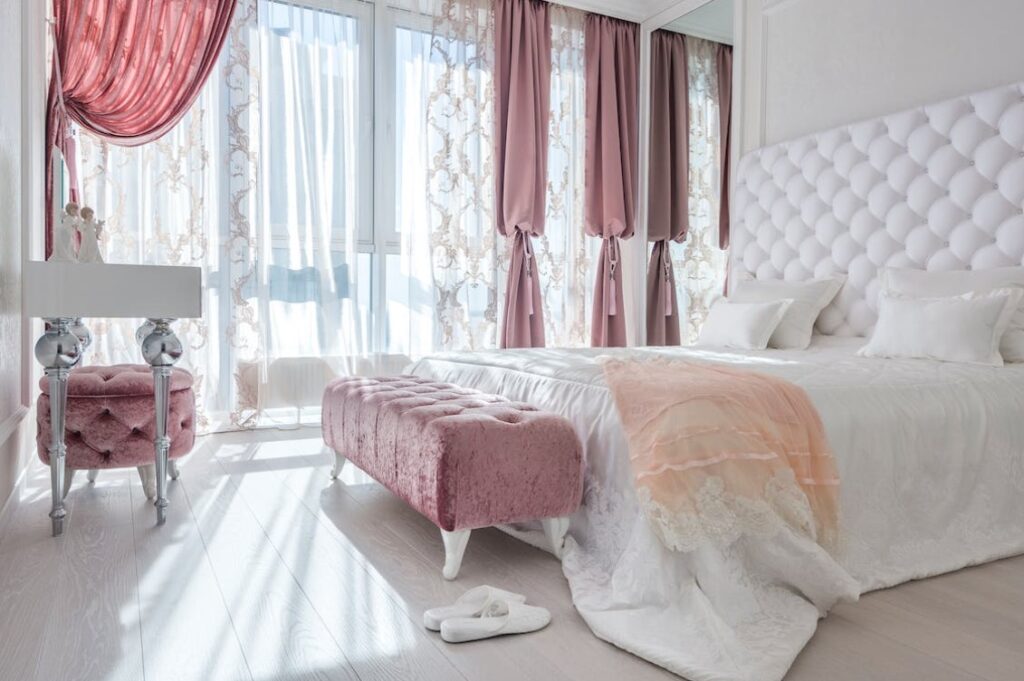 Bed
As evidenced by its name, the bed is the focal point of a bedroom. When putting together a Hollywood glam bedroom, you want a bed fit for a queen. One of the top things to look for is a tufted headboard. You can go for a variety of different shapes, but whatever shape you choose be sure to go for something dramatic. Hollywood glam is all about the drama, so use size and shape to play that drama up.
In terms of color and material, this is another way you can be creative. You can go with a gold bed frame for a more vintage look. You can keep colors muted with silvers and grays, or you can take a more bold approach and use a gemstone color palate. There's nothing more royal than a luscious dark purple, so if you want your bedroom to have a majestic quality, that's the way to go!
Lighting
In addition to your tufted bed, the lighting in your bedroom can also help to make it feel more Old Hollywood. And what's an Old Hollywood glam bedroom without a crystal chandelier? A chandelier brings the elegance and can serve as a focal point for your room.
If you are looking for a more modern Hollywood glam bedroom, then a chandelier might not be right for you. Sconces can provide a more contemporary feel while still amping up the drama.
Don't be afraid to mix metals between your furniture and your lighting. If your bedframe is silver, a rose gold light fixture can be a perfect accent without clashing too much. Different pieces don't have to match exactly in order to go together. Mix and match and see how incredible it can look!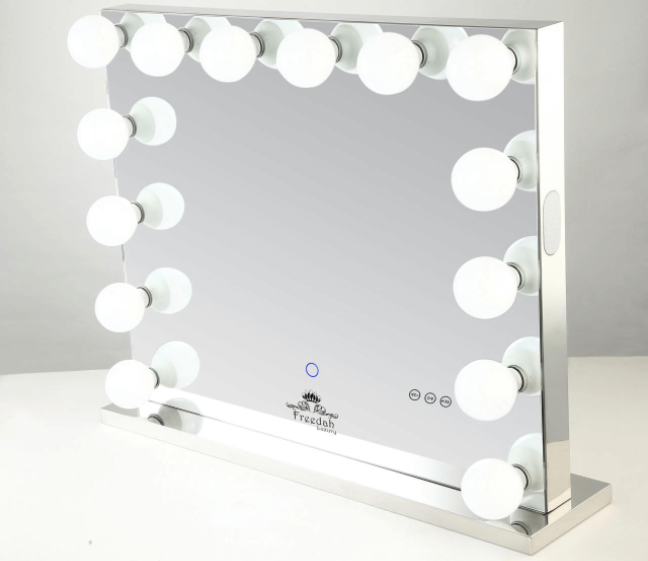 Makeup Vanity
You can't have a Hollywood glam bedroom without having a luxury Old Hollywood mirror. In addition to your bed, one of the best pieces you can add to your bedroom is a glamorous makeup vanity fit for a queen.
The first step in creating the perfect makeup vanity is finding a high quality makeup mirror. Our Hollywood vanity mirrors provide the ideal mix of quality, tech, and glamour. With our Hollywood mirrors, you can start your day off with the main character energy that you deserve.
Once you've secured your ideal mirror, you also need to accessorize your makeup vanity. Pull in the look and feel of your bed frame or lighting when deciding on vanity accessories. Whether you go for a glamorous, all-gold look or a more understated lucite version, your accessories are what's going to make your vanity pop!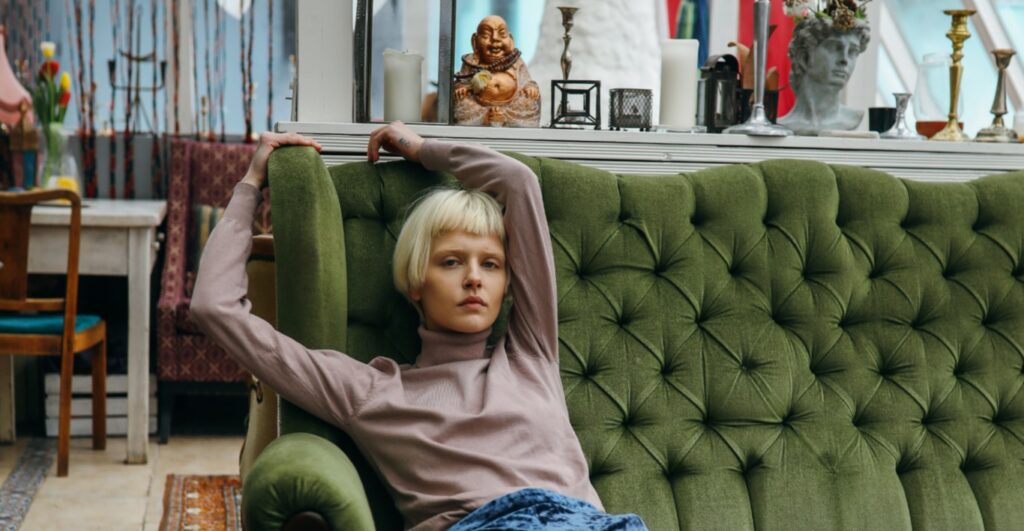 Accent Chairs
Now that we've got the big furniture pieces out of the way, it's time to accessorize with chairs, a side table, a bench, or other accent pieces. Your accent pieces can add a little pop of pizzazz. Whether it's through a bright color or a unique shape, your accent chairs can add a ton of character to your Hollywood glam bedroom.
If you're concerned about whether your various furniture pieces will go together, create a mood board. While it might not give you the exact picture of how your room will turn out, it should offer up a good idea of how the pieces will look in the finished room.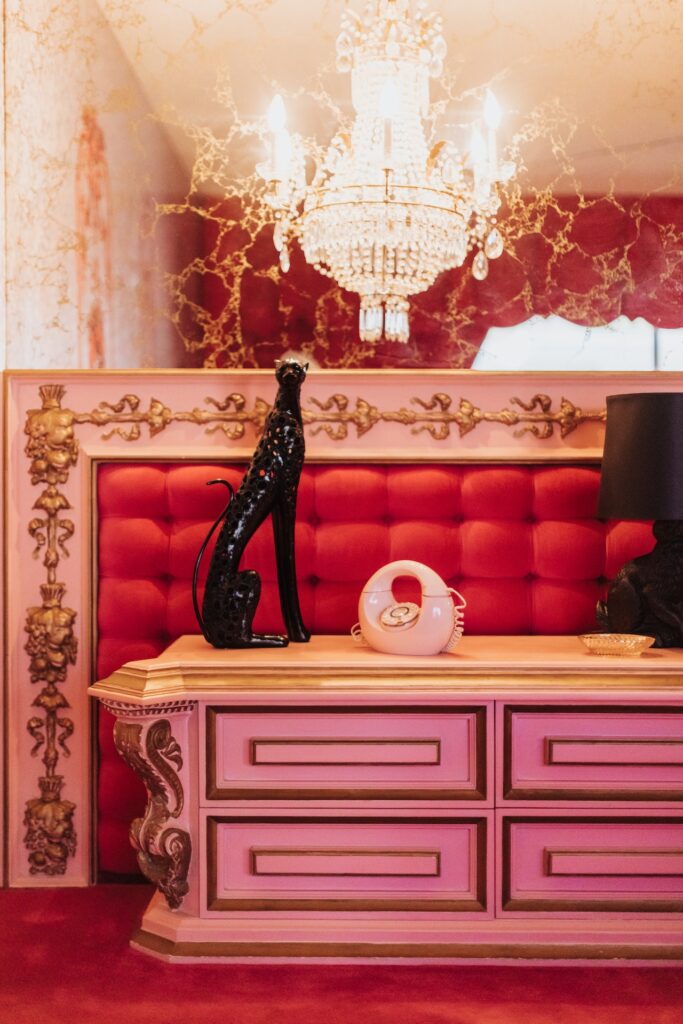 Accessories
And finally on the list of Hollywood glamour bedroom ideas is the accessories. This is where you can have some fun! Look for artwork that evokes some emotion. You can go for something thrifted and on the cheaper side, or you can invest in some artwork that you really love.
Find pieces that spark joy but also serve a purpose. Be thoughtful when you choose your accessories and think of how they can be used to help organize your room or be used in your everyday life. These accessories can really help to amp up the glamour in your bedroom while also being functional!
And now that you know everything you need to create your very own Old Hollywood glam bedroom, it's time to start planning and shopping! You'll be waking up like a queen in no time!