If you're anything like us, your makeup vanity is a sacred space. It's where you create your looks, from your makeup to your hair to the accessories that pull everything together. You've spent time finding the perfect vanity to match your aesthetic. You've found the best lighting and a top of the line mirror so that you can see your beautiful face brightly and clearly. 
But let's be honest, every once in a while you end up with a messy makeup vanity. So now it's time to declutter! Not sure how to organize your vanity? We've got you covered. Read on to find our top tips on how to declutter your makeup vanity.
Take Inventory
Before getting into the actual act of organizing your makeup vanity, you'll need to take stock of what products you have. Empty out all of your drawers and bags and lay out all of your makeup in sections. Now, it's time for a makeup declutter. Just like you need to declutter your vanity, you also need to sort through the makeup that is stored in your vanity. The lifespan of your makeup is likely shorter than you think, so be sure to throw anything out that may be past its prime.
Next up, it's time to clean your vanity. It's important to thoroughly wipe down the area since your vanity, like your makeup products and brushes, can easily harbor lots of germs. And while you're at it, it's probably a good idea to clean your products, brushes, and tools as well.
Now that you have a clean space and you've gotten rid of old products, it's time to start organizing! Since you've taken inventory on what products you have, you can now have a better idea of the layout and objects that you will need to declutter. We want the end result to be a makeup vanity where you can quickly find what you're looking for and easily keep it organized and clean.
So what do you need to achieve this?
Organizing Trays
When it comes to organizing your vanity, organizing trays are a great place to start! Whether you go with a cost-effective plastic bin or a dramatic glass tray, any portable compartment is a great way to organize your makeup vanity. Some people use their trays just to hold their brushes and lipstick, while others use smaller trays to hold each individual category of makeup. As a general tip on how to organize your vanity drawers, keep like items together. It'll make it easier for you when you're on the hunt for a specific product.
Check out our previous blog post on our favorite makeup organizers for your vanity table!
Leather Brush Holder
Who says you can't be organized and stylish at the same time? With a classy leather brush holder, you'll have a durable and sturdy display for one of your most important makeup application tools. We recommend setting it up against the mirror, on the wall, or on the side of your vanity, for easy access. The bonus of a leather brush holder is that you can easily transport your makeup brushes as well!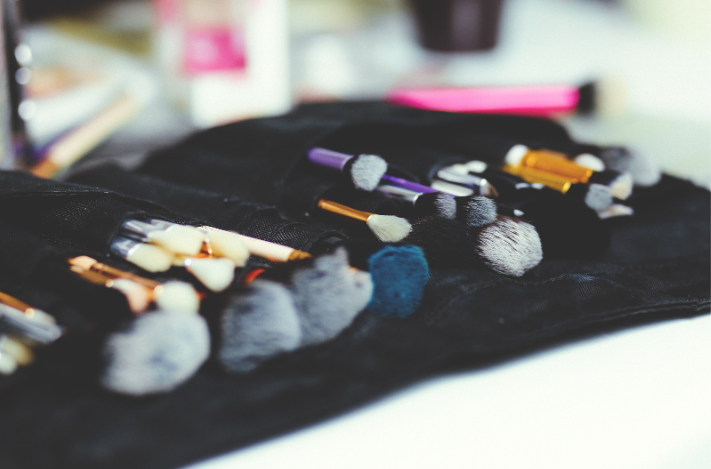 A Magnetic Display
If you're a crafty person and are wondering how to declutter your vanity, boy do we have a project for you! Attach magnets to your favorite makeup items and stick them to a magnetic display board, which could be easily made with a picture frame or purchased from a retailer online. This is one of our favorite ways to organize your makeup vanity as you can really go nuts with the decorating.
Repurpose Some Household Items
Time to channel your inner Pinterest mom. By raiding your pantry or kitchen, you can find a ton of surprising items to help you organize all your makeup products and tools. You would be shocked at how well stand-alone spice racks, silverware organizers, ice cube trays, and even popsicle makers work as makeup organizers. The best part? It's not that expensive or sometimes even free of charge! You know we love a good deal, here at Freedah Luxury.
Speaking of good deals, have you checked out our Hollywood Vanity Mirrors? Perhaps it's time to finally treat yourself! Now that you know how to organize your vanity desk, get a nice, high-quality mirror to go along with it!